A.G.D., the project
I&B offers you an innovative solution: Actions Gate Device. In short, we've reinterpreted the SmartWatch, turning it from an electronic gadget into "Action Gate" to bring a world of useful solutions to your wrist.
«There's only real progress when the advantages of a new technology become available to everyone.». This thought led Henry Ford to conceive a motor car which could be for everyone, a means of locomotion, for work, and not a product for the elite few.
Now more than ever before, this business philosophy should belong to the captains of industry, to those who, with their choices, trace the profile of what we call, improperly, Future.
This is why, today I&B proposes the evolution of the SmartWatch and turns it into a Actions Gate Device with characteristics FEP – For Every Person!
Introduction to the SmartWatch metaphor and the use we make of our watches
The name itself declares the nature of the product: a wrist computer with the main function of telling the time. On this basis, we have begun to propose wrist computers which act as a "bridge" between your fingers and your SmartPhone. We'll get to back to this shortly.
To understand who we can propose a SmartWatch to, we have to analyse "human male" and "human female" behaviour in relation to the time measuring machine we wear on our wrist: the watch.
Let's start with the easiest analysis, that relating to the use made by men.
Basically a man sees a watch as two things only: a useful tool or the men's accessory by antonomasia, which also becomes an elegant business card and a status symbol for those who introduce themselves to those capable of understanding this not altogether subliminal message.
A man belonging to the first category can be a SmartWatch customer if he's interested in technology and his curiosity is aroused by this "intelligent bridge".
A man who belongs to the second category is unlikely to become a SmartWatch user. He might buy one and play with it for a while, but his "jewel" watch, possibly dreamed of for years and bought with money saved up for years or paid for with his severance pay, will return to its place on his wrist.
Who would give up his split-second Tazio Nuvolari by Eberhard, or his Dual Time by Vacheron Constantin, etc., for a SmartWatch …? No one.
Now let's look at the more complex, but smaller, world related to female use.
Unlike men, women see watches as not just something useful, but as a piece of jewellery to all intents and purposes. Unless a women suffers from a particular form of allergy, she will be a regular wearer of silver, gold, platinum, precious stones or the simple alloys used to make good costume jewellery.
Women transform themselves with clothes and accessories, they love to change, and feminine beauty also contemplates this kind of behaviour.
A chameleonic SmartWatch could be very well received by women.
At this point we know that the SmartWatch has the chance to reach users with a passion for electronics or who are disinterested in elegant watches.
The current utility of a SmartWatch
In other words – no one.
For electronics and IT enthusiasts, there will always be the thrill of trying and discovering a new electronic device.
The current limits of a SmartWatch
Letìs restrict the analysis to the main features that are actually quite absurd:
We are asked to use our fingers on a surface measuring about a quarter of an inch, instead of the much bigger screen of a SmartPhone.
We are offered the chance to use the SmartWatch as a "bridge" between us and our mobile phone, almost always in speaker mode, sacrificing our privacy.
We are asked to interact with messages to and from Social Networks in a space in which our finger shadows the display we have to use.
That's enough …
What would change with A.G.D. – Actions Gate Device?
Everything.
The following figure shows the basic equation of the industrial invention we're taking about.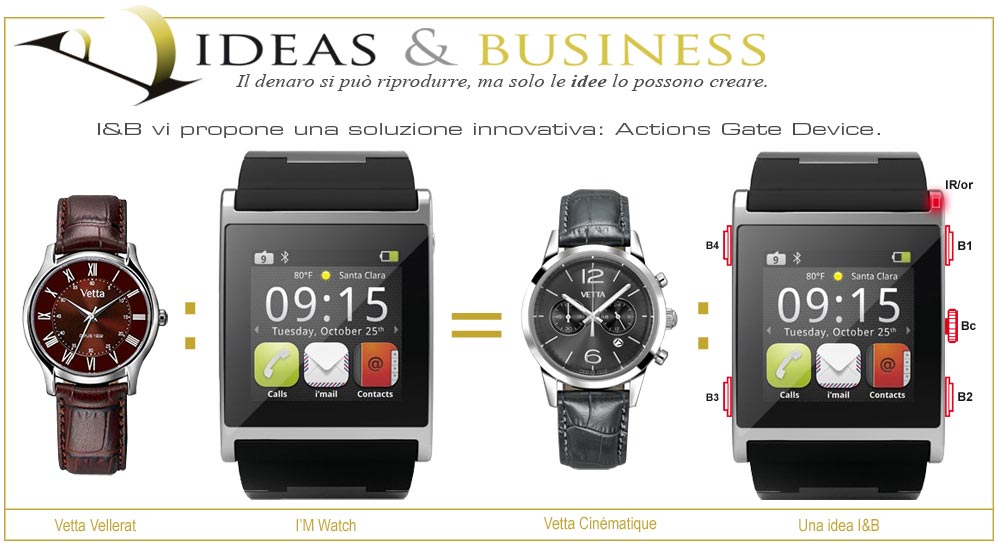 The «classic watch : to the SmartWatch = the chronograph : to the A.G.D.» equation has several strengths.
It hasn't gotten caught up in the maniacal obsession that todaya product has to have a touch screen interface at all costs.
It bases part of its strength on the reintegration of buttons with buttons that run parallel to the touch screen functions, bringing together two "worlds" that aren't redundant, but complementary.
It introduces a writing/browsing system that some people think is only usable by the disabled – D-User – while in actual fact it is a fast and handy instrument for creating texts: scan writing. The input of characters using buttons allows zoom effects that would make the face legible also by those with sight impairments.
Many capacitive touch systmes are unable to work if you're wearing gloves. A.G.D. can be used with gloves or with an artificial limb.
A.G.D. is a real Actions Gate Device. A starting point for input relating to the actions you wish to perform. A transmission module will make A.G.D. the tool you'll use to open the gate to your house, change TV channel, interact with the home environment and much, much more …
A.G.D. will also be the safety box of your electronic identity. Nowadays, many operators look carefully at NFC payments. Would you prefer to have the payment device on your SmartPhone or your Actions Gate Device fastened to your wrist?
A.G.D. could become your "nerve centre" for the actions you carry out, with everything reachable via computer control. A.G.D. could even become the electronic key that opens your car and turns on the engine.
The potentials that we've attributed to A.G.D. are endless …
Why should you wear A.G.D. instead of a simple SmartWatch?
Because Actions Gate Device isn't a gadget, it's a useful tool that will adorn your other wrist. It will reduce the number of items in your pockets or handbag. It will offset your favourite watch. Your electronic identity will only be separated from you when you want, raising your security level.
When will A.G.D. become reality?
When the genius of a company understands that an innovative, revolutionary and genial product capable of converging the best of two separate worlds with their respective opposites in a single product.
As regards the technological sphere, the convergence between touch screen and button systems.
As regards the human sphere, the convergence between approaches/techniques used by abled bodied and disables people.
A.G.D. would be "the solution" to the numerous needs of many disabled people – D-User – and would also be the first real product FEP – For Every Person – which would extend its user basin to the D-Mondo, those 650 million disabled people who represent only the third world minority and whose purchases are dictated not only by pleasure but also be necessity: making theirs a market which cannot postpone useful purchases.
Prospects
Actions Gate Device is only the first innovation proposed by I&B. There will be others that are thematically and otherwise correlated.
For those who would like further information, please use our form to ask any questions you might have.