What it is the "D-" Project
"D-" Project has far origin and, of course, they precede I&B's birth. Our founding member Carlo Filippo Follis – Disabled from birth to Spastic Quadriplegia – in the past, through one of his Blog, gave life to the project Apple D-user project that today grows up to reach a broader view of idea that inspired him.
We let the axplanation of this project to the words of who conceive it and today sees a business development. This is the logical aim to transform ideas in facts.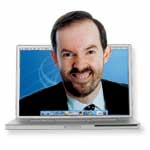 Hello Everyone,
You see, being a Disable from birth, and living numerous experience in working, associative and hobby area, I realized many products or services, if they were evolved for Disable, could be more Usable and Accessible and they would represent real Solutions for the Disable.
Disables are the third world minority, something like 650 million people. People like others that are only distinguish by many needs.
This countless needs make to specific manufacturer of specific branch the certainty that their enterprises will never live in the doldrums reserved for more generic areas. That is because necessity isn't futility, it isn't postpon-able.
However even when specific productions satisfy our need, something is lacking. That something is simply the convergence of two distinct but intersected worlds: Able-Bodied's World and Disables' World.
Industrialization of a product together with its designed represent considerable cost for the project itself. Pay special attention during the design phase so that the object can be more Usable and Accessible isn't a cost. Or better, it represents a no-cost because invested attention is, or it should be, intellectual property of the designers then incorporated into a reality already "paid."
Why big multinationals as Apple, Fiat and … invest on solutions that wink at Disable's world? Because it earn.
In the global scene, however, there is a carelessness that brings entrepreneurial not to "take advantage of" il D-Market. This argues against the enterprise economy that lost sales, but it also argues against D-user which won't be able to benefit from a whole range of products.
Technological evolution of last decade generated a greater break from the past than the one it done the previous decade. Probably this will be a hallmark of what many people call future.
Therefore we are faced with a serious risk: that the exasperation of certain solutions that please like because they are trendy like touch systems, for example, exclude more and more Disabled users by a whole series of products.
That said it should also be said technology allows great things, among them the convergence of two worlds: the world of Able-bodied users and D-Users' one.
"D-" Project has the purpose of patenting solutions for the convergence of two worlds, of offering advice for this purpose and to offer it so that products and services already existing evolve themself remaining essentially how they were conceived.
"D-" Project also aims to raise awareness to creating products that, at least, tend to the concept of product FEP – For Every Person – also in defense of the Disables' right to benefit from beautiful things, stylistic, modern, trendy and not only of Aids often at the antithesis of this concept.
If in the technical studies there was an Disabled engineer to work alongside Able-bodied engineers, here they would be ideas for more FEP objects. Assuming that the above can not happen, it makes sense to think about "D-" Project so that it was build a network of – Disabled – excellent minds able to offer a business of D-Consulting to all facilities that will want to take advantage. This will also provide a more global analysis of the product based on input deriving from different needs of Disability.
I & B does not do editorial work, but it will offer to you periodic reviews of common products and it will demonstrate to you how little was enough to make them FEP.
I hope that this project to be successful, not so much like a result of company for I &B but as an evolution of individual consciences which safeguard their future.
Never forget Disability, if it isn't of genetic origin, will be a historic event and how this will manifests itself without asking you if you want to be ejected from the world of the Able-bodied to the one of the Disabled with all its implications …
Carlo Filippo Follis