Interaction with Social Networks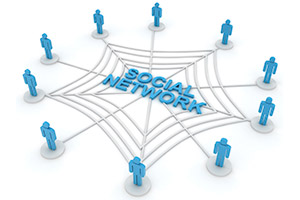 Social networks' reality establishes itself to such an extent as to induce a change of historical evaluation criteria of our Web reality. Nowadays our websites'll have value if they're visited by people that reach our web page from their own Social networks.
So social networks' visitor become a certification tool of contents we publish.
Google modified its search's algorithm pursuant the following concept: «If navigator considers that examined contents are considerable, after an evaluation of his behavior in the contest of the site, why not believe him? Who can define contents' quality better than visitors that read them? If we project this to a behavioral scale of billion people, these people'll be more believable than the most evolved robot designated to scan website.».
By our we think this phenomena, that we consider irreversible, can bring back Human component to a place of greater relevance in a world where technology's often preponderant.
So Ideas & Business give integrated end evolved solutions so that your contents can reach global users.
Best ideas or an excellent product will never have the right success if they're orphan of a communication vector.
Do you want success? Communicate it to the world, it'll listen to you!
It'll be pleasant to go with you in this path …